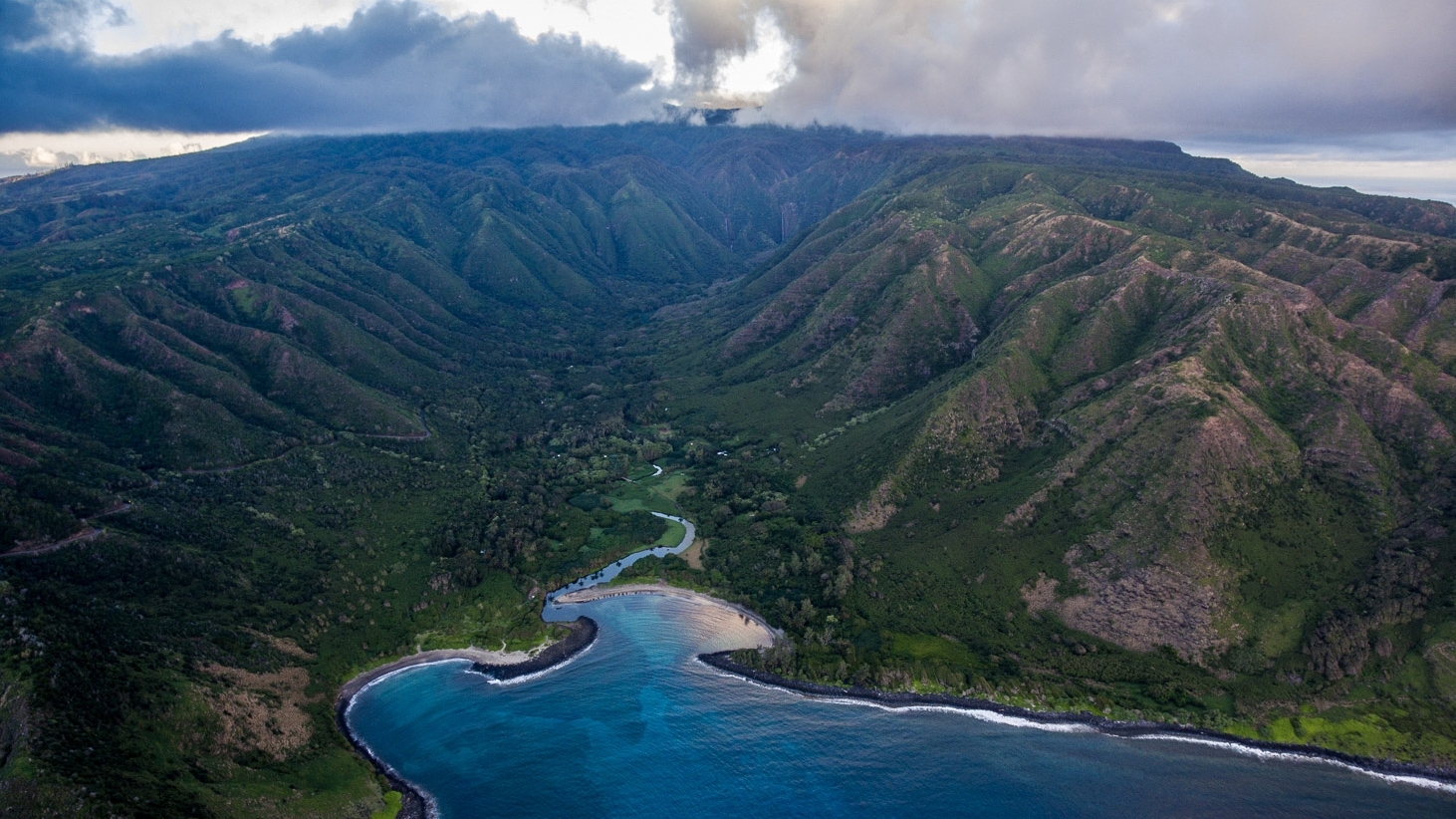 "The Illuminated Subtle Body" with Robert Thurman & Michele Loew
Molokai, Hawaii
A Weekend of Yoga at Timberline Lodge with Michele Loew
Mount Hood, Oregon Timberline Lodge
Illuminating the Subtle Body Meditation & Yoga Retreat
Ladakh, India with Michele Loew
"The Illuminated Subtle Body" with Robert Thurman and Michele Loew
The Illuminated Subtle Body" with Robert Thurman & Michele Loew
Location: Molokai, Hawaii
Dates: January 4-9 2019
A Yoga & Meditation retreat in Paradise, in an intimate setting with world renowned Buddhist scholar Robert Thurman, who will share the Buddha's teachings with us daily and guide us through meditation practice & dharma talks. Joined by Michele Loew, who will be sharing two yoga practices a day, accessible to all levels, which will focus on awakening our connection to the subtle body via asana, pranayama in the morning and restorative practices including Yoga Nidra in the evenings.
Situated on the Hawaiian Island of Molokai, on a private working ranch, Pu'u O Hoku Ranch.
Only 11 rooms, so this will sell out quickly and be an intimate setting.
WHAT'S INCLUDED:
5 nights Lodging, 3 organic meals on the Lanai sourced from the farm, Study with Professor Thurman, and Yoga sessions with Michele.

One special guided sunrise meditation walk to the very east end of Molokai to watch the sunrise and the whales.

One guided hike to the amazing Halawa waterfalls.

Free time in the afternoons to meditate or play on the secluded beaches.
NOT INCLUDED:
Flights

Transfer from airport to ranch (about 30 miles)
ROOMS:
$950 per person based on double occupancy shared. ($850 for Tibet House Members)

$1600 single. ($1525 for Tibet House Members)
$300 Deposit required to hold your spot. PAY HERE.
Payment plans available.
Don't miss this opportunity to start the New Year in beauty and clarity from inspired yoga practice with these master teachers in this intimate and natural setting.
Robert Thurman
A recognized worldwide authority on religion and spirituality, Asian history, world philosophy, Buddhist science, Indo-Tibetan Buddhism, and His Holiness the Dalai Lama, Robert Thurman is an eloquent advocate of the relevance of Buddhist ideas to our daily lives. In doing so, he has become a leading voice of the value of reason, peace and compassion. He was named one of Time magazine's 25 most influential Americans and has been profiled by The New York Times and People Magazine.
Thurman travels internationally lecturing to universities, companies, conferences and think tanks. He is a gifted communicator who can make complex concepts understandable introducing challenging ideas with intelligence and humor in a down to earth and comprehensible way.
He reasons passionately that H. H. the Dalai Lama, a true man with no worldly rank, is the most practical leader of world leaders, with principles that must be heeded by them to avert the worst outcomes of our present global crisis: nonviolent dialogue in place of war, environmental restoration in place of consumerist exploitation, inter-religious mutual affirmation in place of ideological competition, hope and determination in place of cynicism and denial. When these are widely implemented, we cannot fail to have a world renaissance of an amazing peace, beauty, compassionate justice, and shared joy!
Michele Loew
Michele Loew is an international yoga teacher and the founder and director of The Yoga Space in Portland, Oregon. She is known as a teacher's teacher and is respected for her 200 Hr & 500 Hr. Yoga Schools and her ability to combine Western knowledge of the body (Anatomy & physiology and modern kinesiology techniques) with the Eastern tradition of yoga.
She has studied and taught avidly since 1998, having studied extensively in the Iyengar and Ashtanga traditions as well as the Sri Vidya lineage. She is known for her keen observation skills and her ability to guide a student towards aligning the physical and energetic body through the use of expert hands on assists and intelligent verbal cues. She brings to her teaching a warm and engaging style that reflects her own internal understanding of the practice.
Michele is an avid student of Eastern & Western Philosophy and continues to study with her principal yoga teacher Richard Freeman with whom she has practiced with since 2000. She has been Richard's assistant in his teacher trainings and workshops, and has a close understanding of his brilliant middle path teaching. She practices Tibetan Buddhism, and received several Kalachakra initiations with HH The Dalai Lama and practices Vajrayana as guided by her beloved teacher in Buddhism, Dr. Robert Thurman.
Michele teaches regular classes and trainings in Portland, as well as retreats and workshops internationally. For more information on Michele please visit her website & please follow on Instagram and Facebook.
Flowing Upon Sacred Ground
A Weekend of Yoga at Timberline Lodge with Michele Loew
Mount Hood, Oregon Timberline Lodge
May 3-5th, 2019
Flowing Upon Sacred Ground
A Weekend of Yoga at Timberline Lodge with Michele Loew
Location: Mount Hood, Oregon Timberline Lodge
Dates: May 3-5th, 2019
Cost for Weekend of Yoga in the beautiful Mount Hood Room at Timberline looking out at the mountain: $150: If staying at lodge/ $200 for non-resdiential off site bookings.
Pay below to reserve your spot.
Lodging cost separate, Book your 2 night stay at Timberline here: LODGING AT TIMBERLINE
Friday night May 3rd: 7pm-8:30pm "On Sacred Ground, Vinyasa & Classical Hatha Yoga for awakening Infinite energy and creative potential": Our first practice will help us to tap into the beauty and majesty of Mt. Hood, our practice space for the weekend. This will be a powerful Vinyasa practice which will include Pranayama & Kriya practice to access the mountain base of our own spinal column upon which our infinite creative potential resides. We will work with standing poses, hip openers, kriya, breath, & visualization techniques.
Saturday, May 4th 7:30-9:30am: "The Power in Your Yoga Practice": This will be a vinyasa flow practice designed to inspire and challenge students to new levels in their practice through dynamic, fun and creative sequencing. We will work with the power of intentions and the energy of the mountain to come into full alignment with our higher selves.

Saturday, May 5th 5:30-7pm "The Heart of Silence": A Yin, Pranayama, & Yoga Nidra Practice After a day of play at the lodge, good food and friends, we will enjoy a practice utilizing classical restorative yoga poses and the breath to feel revitalized, relaxed and renewed. This will be followed by a Yoga Nidra practice, the yoga of awakening through deep yogic sleep in a lying down guided meditation.
Sunday, May 6th 7:30-9:30am: "The Deep Life Force of Yoga" This Vinyasa practice will focus on Backbends, Twists, & inversions for all-levels, and bring our weekend to an inspiring close.
"Illuminating the Subtle Body Meditation & Yoga Retreat"
Ladakh, India with Michele Loew
Ladakh, India with Michele Loew "Illuminating the Subtle Body Meditation & Yoga Retreat"
Location: Ladakh, India
Dates: June 28-July 7th, 2019
Join Michele for a trip of a lifetime in one of the most beautiful places in the world, Ladakh, India. Home to the Dalhi Lama's Summer Palace, and a pilgrimage place for yogis and Tibetan Buddhist practitioners. This sacred center is located between the highest mountains in the world, the Himalayas in the South and the Karakoram in the North.
The high elevation and this sacred ground will support our practice of Yoga Nidra, Gentle Yoga Asana, and Pranayama to support a deeper meditative state of being, clarity and illumination of our Subtle Bodies.
The Retreat and lodging will be held at Nimmu House.
Students can choose from glamping in luxury tents with en-suite bathrooms, or guest house rooms. Vegetarian meals will be included, and dietary restrictions accommodated. We will have outings with expert Ladakhi guides to nearby temples & monasteries such as Alchi, hiking, and also shopping excursions optional.
Michele has chosen this time of year in India because it is the best for the Himalayas, but also there will be a Total Solar Eclipse the week of our retreat. This will not be visible from Ladakh, but it will be felt and support our practice profoundly. What you are practicing and committing to during an eclipse can be felt for at least 6 months if not much longer.
We will fly into Delhi and stay for 2 nights at the Trident Gurgaon Hotel.
The Basic Retreat is based on 2 nights in Delhi & 6 nights in Ladakh. Michele will be in Sri Lanka the week prior and staying on in India the week after, and is happy to talk to you about adding on excursions to this trip or recommending places for you to explore unguided.
WHAT'S INCLUDED:
6 nights lodging Glamping in Ladakh or accommodations inside Heritage House.

Three vegetarian meals daily in Ladakh

Two Yoga Practices & Meditation Practices a day with Michele

Transportation to and from airports to hotels.

2 nights hotel room Trident Gurgaon Delhi, breakfast included

Day Trip to Alchi Monastery (optional)
NOT INCLUDED:
Airfare to India & Ladakh

Optional excursions or spa treatments

Alcohol

Gratuities for Staff

Personal Items or Souvenirs

Travel insurance (we always recommend)

Meals in Delhi outside of included breakfast

Indian Visa
ROOMS:
Glamping In Ladakh (Tent with bathroom) & Deluxe room in Delhi – Single: $2900

Glamping In Ladakh (Tent with bathroom) & Deluxe Delhi - Shared double per person: $2000

Heritage house Room Ladakh & Deluxe Room in Delhi- Single: $2850

Heritage house Room Ladakh & Deluxe Room in Delhi- Shared Double per person: $1950
A $700 non-refundable deposit holds your space. Final payment is due 90 days prior to the retreat's start date. Refunds – less deposit – are available 45 days prior to the retreat. Cancellations WITHIN 45 days of retreat will not receive a refund. We wish we could compensate people for unforeseen circumstances (injury, family emergency, inclement weather, etc.) but we have costs already incurred when reserving retreat centers and hotels.
To be safe, we highly recommend travel insurance.
Michele will be assisted by Radhika Tipre, a yogini that is from India and has taken Michele's 500 hr. Teacher Training. Radhika will be coordinating much of this trip and is available to answer questions about her native India. Please feel free to contact Radhika at r_tipre@yahoo.com. Or to contact Michele, please email michele@theyogaspace.com